Artlist Registration Process
Don't miss out on this fantastic opportunity to join the Artlist community and elevate your video creations to new heights. Register now and take advantage of the convenient and cost-effective subscription plans along with the bonus campaign. Unleash your creativity with Artlist!
1.Visit the Artlist website at www.artlist.io.
2.Click on the "Sign Up" or "Join" button located on the homepage.
3.Fill in the required information, including your name, email address, and password.
4.Choose a subscription plan that suits your needs, either monthly or annual.
5.Provide your payment details to complete the registration process. Artlist accepts major credit cards and PayPal.
6.Once your registration is complete, you will gain access to the Artlist music library and its features.
Artlist's Exclusive 2-Month Bonus Campaign
①Accessing Artlist
First, access Artlist through the following link: https://artlist.io/
Once you've accessed the site, click on "Start Free Now" or "Get Started" to begin the free registration process. You can register using your Facebook or Google account, or by providing your email address.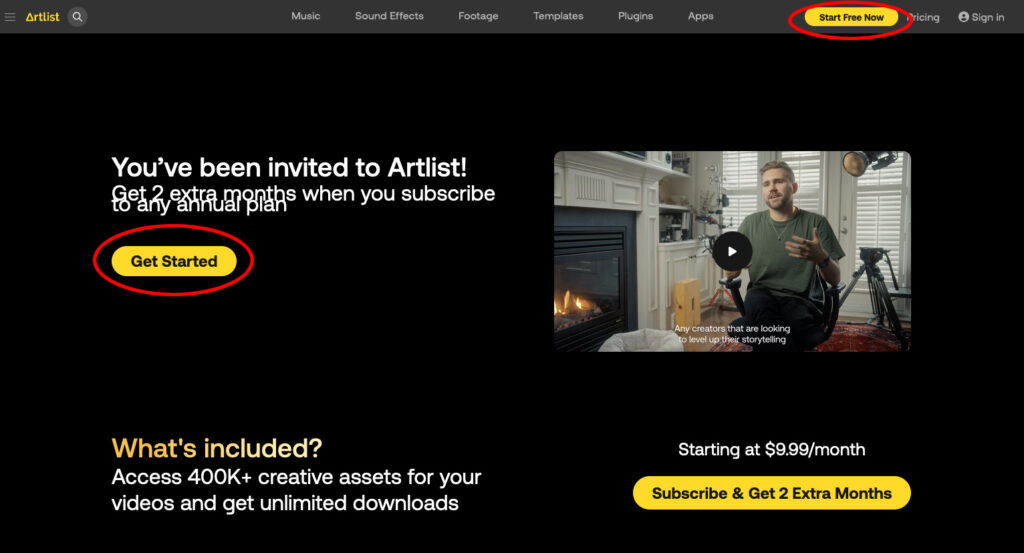 ②Creating a Free Account
If you choose to use your Facebook or Google account, simply click on the respective icon in the image to log in and complete the registration immediately. For email registration, start by entering your name in romanized characters in the "Full name" field. Then, input your email address in the "Email" field. Finally, set a password in the "Password" field and select the sign-up button at the bottom to complete the registration.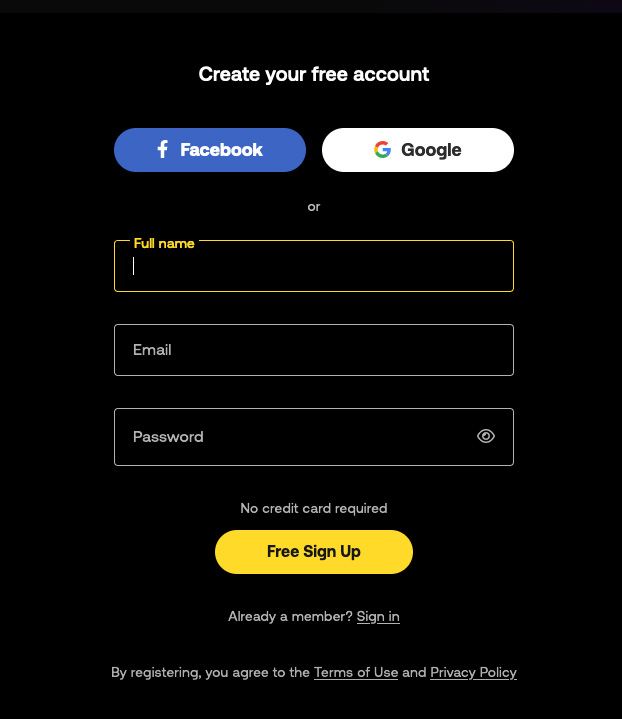 ③Upgrading Your Account
By default, the free account only provides a trial version, so if you intend to use Artlist for your work, it's recommended to upgrade to a paid plan that allows commercial use. Click on "Subscribe Now" on the screen.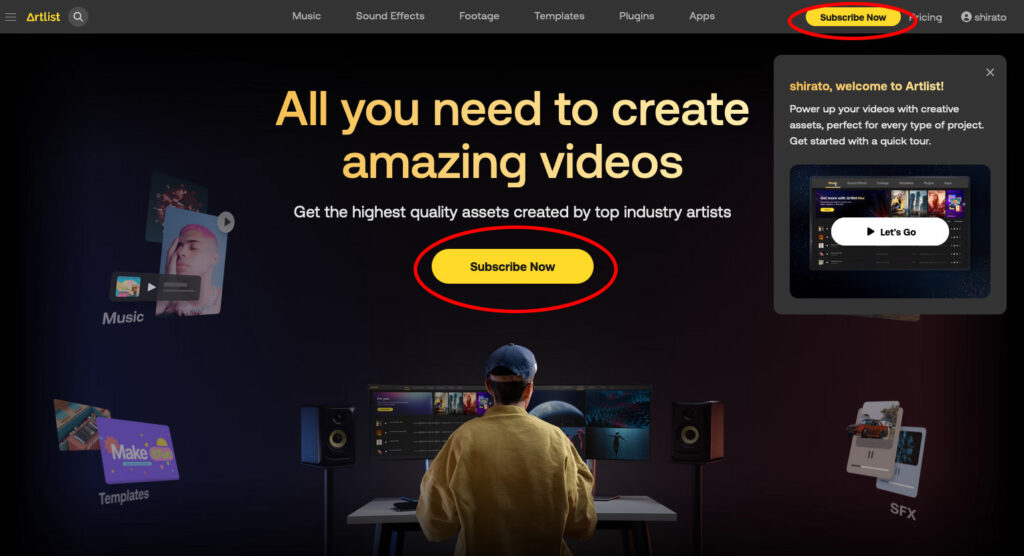 ④Choosing a Plan
Artlist offers various paid plans, but if you're looking for the best value plan that provides unlimited access to music, the recommended option is the plan highlighted in red. Select the "Music & SFX Pro" plan within the "Music & SFX" tab. Once chosen, click "Select" at the bottom.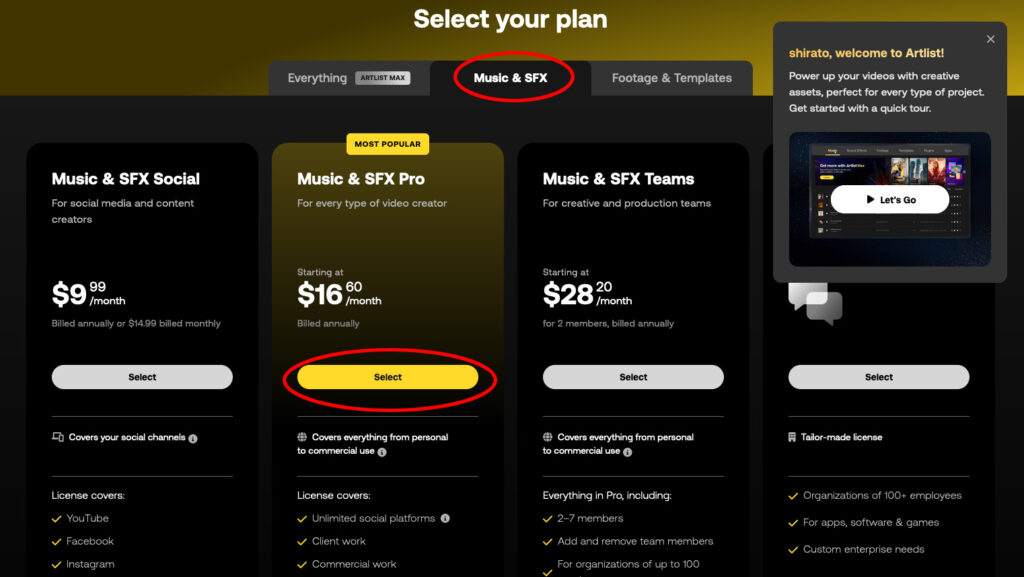 ⑤Entering Payment Information
It's important to note that, by default, the plan automatically includes access to sound effects in addition to music. If you don't require sound effects, make sure to uncheck the option and keep it as "Music" only. This will reduce the price. Next, choose your payment method, either "PayPal" or "Credit Card," and provide the necessary information in the empty fields below:
Card holder name (romanized)
Card number
Expiration date (as indicated on the card)
CVV (3-digit security code on the back of the card)
Billing Information (select your place of residence)
Once all the information is entered, click on the "Subscribe" button to complete the registration process.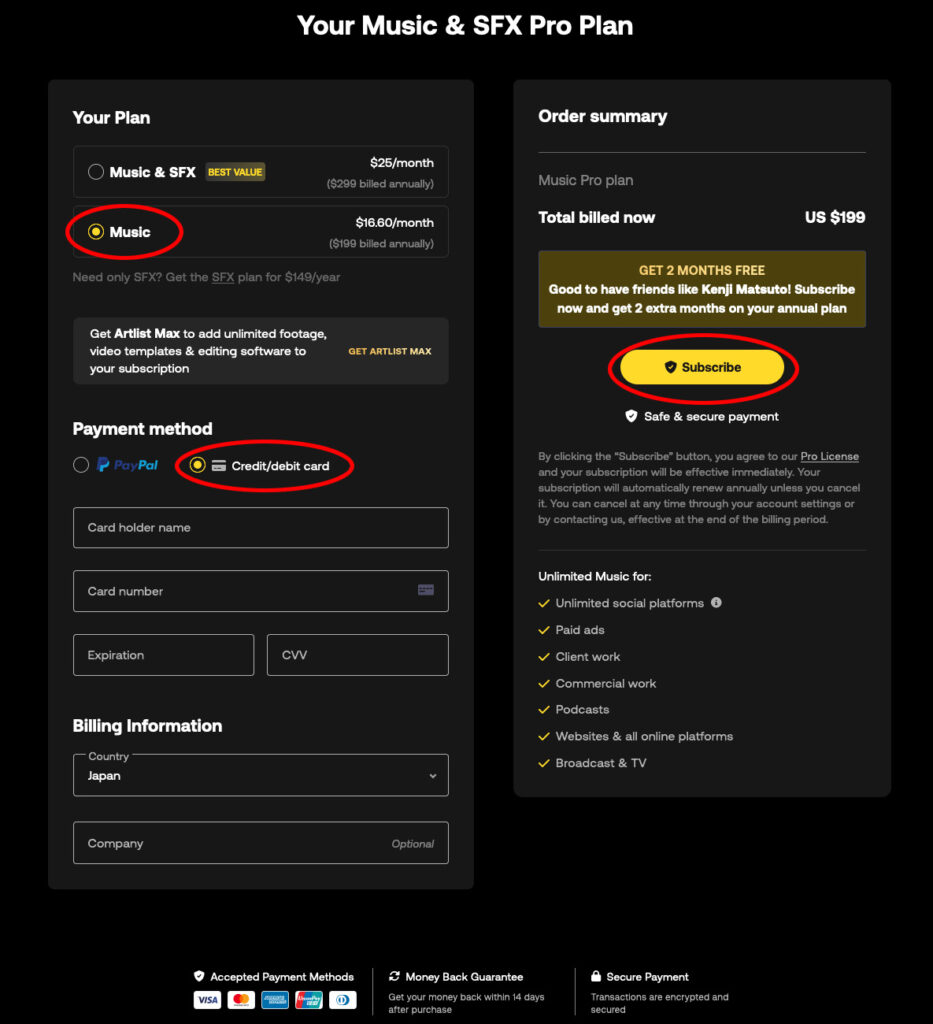 ⑥Unlimited Access to Your Favorite Music
Now, all the music within the Artlist website is available for unlimited usage without any copyright restrictions. Use the search function in the top navigation to find and download your preferred tracks. This service allows you to utilize the music worry-free in various settings such as television, movies, commercials, YouTube, social media, and events, all at an affordable price. It's a must-have service for video creators.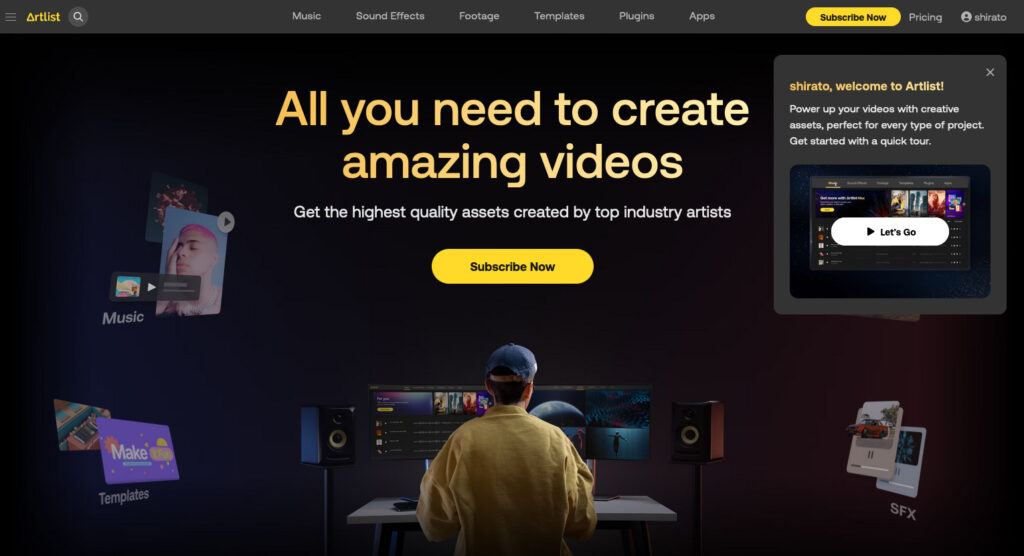 What is Artlist?
"Artlist" is an innovative service that provides high-quality, copyright-free music for easy use. This convenient platform offers a diverse music library suitable for various creative projects. With thousands of tracks available in genres ranging from emotional piano to energetic rock, relaxing ambient, and dynamic electronic, Artlist enhances the allure of your projects.
Artlist utilizes a simple licensing model that seamlessly manages rights. It also supports commercial use, allowing you to incorporate the music into platforms such as YouTube, social media, movies, advertisements, and podcasts. Once you download a track, it remains accessible indefinitely.
Furthermore, Artlist features a user-friendly interface and advanced search capabilities. You can narrow down music choices based on genre, mood, tempo, instruments, and other criteria, quickly finding the ideal track for your project. Additionally, Artlist provides stem files for editing purposes, elevating the quality of your projects.
Artlist is the ultimate music library designed to stimulate creators' creativity. With unlimited access to high-quality music, elevate your projects to the next level. Artlist frees you from the hassle of copyright issues, allowing you to explore boundless creative possibilities.